NEWS & EVENTS

The partnership with LCR Honda was officially presented on 8 November in Bologna during the 43rd EIMA (International Agricultural and Gardening Machinery Exhibition). Paolo Bucchi and...
NEW PRODUCTS

GV Etna 4.1 FOAM
Multipurpose machine: cleaning with detergent, steam, steam with detergent, foam and hot water. Equipped with a compressed air connection and pressure gauges for air and steam. Unlimited autonomy of steam thanks to the electronically controlled power supply of the boiler, which enables water...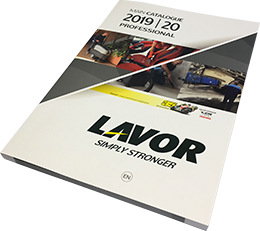 Flip through our catalogue 2019
BECOME OUR DEALER
To give you the change to find the most appropriate company contact, Lavorwash gives you the change to request information and to be promptly contacted for any necessity, just filling in the web form.